Rideshare app Gojek has disrupted traditional paratransit services. The cost to places like Bandung is a loss of spaces once autonomously co-produced by drivers and passengers.
Anyone who's visited Bandung in the past five years or so would be hard-pressed to miss the green jackets of Gojek and Grab motorcycle drivers filling the streets, escorting customers, delivering packages, or simply waiting for their next order. Imagine Uber on two-wheels, but with more services: ranging from rides to food delivery and electronic payments. Motorcycle taxis (ojek) under the banner of these decacorn-status platform companies have integrated so well into the urban rhythm of the city it is difficult to imagine life without them.
As a cultural hotspot and UNESCO Creative City, Bandung has attracted tourists, students and creative workers alike, increasing its population steadily year by year. Most of the city's population use paratransit services such as the angkot minibuses and ojek, when private transportation is not an option. Ojek drivers have always had steady customers to make a living until the arrival of Gojek, which disrupted this long-standing ojek dominance and has caused much friction between the two groups. As a synthesis of a traditional motorcycle taxi and algorithmic process, Gojek's hybrid mode of labour has posed an existential threat to ojek, which had hitherto held an effective monopoly of the city's informal transit market.
No surprise, then, that the ojek community reacted negatively to the formalisation of their informal labour. Many Gojek drivers would even reject orders to ojek 'owned' territories due to possible physical intimidation or even violence. With the recent news of Gojek's plans to merge with e-commerce giant Tokopedia to form a massive Amazon-like technology company, it is likely that existing strife within the city will only increase. The $18 billion merger would no doubt expand Gojek's dominance over the city, possibly pushing informal workers farther into the sidelines.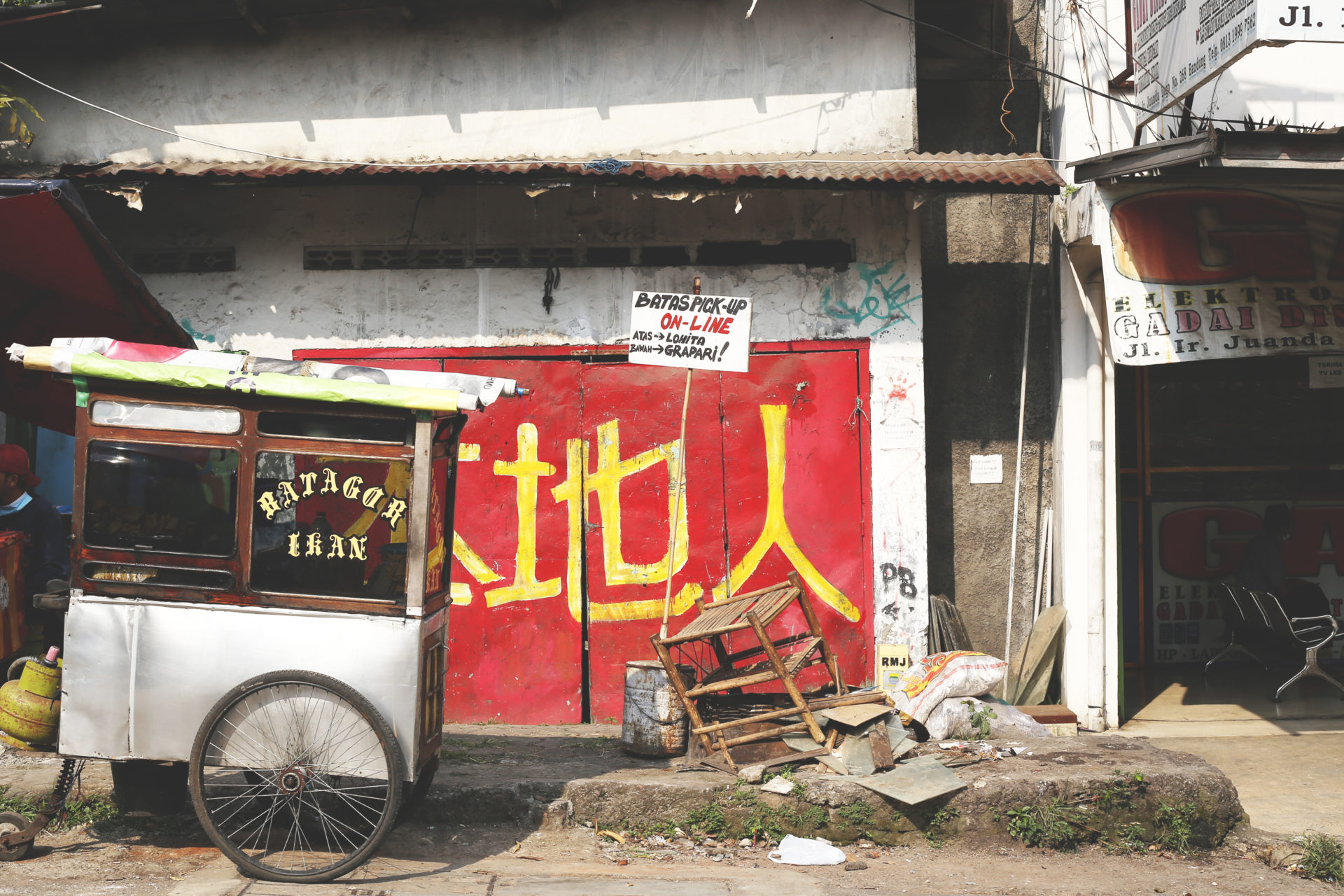 These social frictions and disputes over urban space raise important questions surrounding the ways in which algorithm-based infrastructures interact with an informal political economy, particularly with respect to the precarity experienced by informal workers and the spaces this interplay produces. Especially in English language analyses, ideas about the platform economy and its effects on society often stem from formal economies of the Global North. However, cities like Bandung, with emerging markets, located in the Global South, have a substantially informal side to their economy, and their population is by and large self-employed or engaged in informal work that utilises the city's public spaces. With the introduction of these platforms, Bandung has started to see manifestations of so-called "algorithmic urbanism", where platform algorithms alter existing models of urban space and produce new ones, obscuring existing relationships operating within those spaces.
In Indonesia, public space has long been produced through and by actors in the informal economy, whose offer of extreme convenience suits very well the patterns of consumption in the country at large. This is clear to see in a place like Bandung, where no public space would be complete without travelling street vendors who will invariably set up shop roadside and drivers of informal transit (i.e. ojek, rickshaw drivers, paratransit) stationing their vehicles in any place with a consistent crowd. The relationship is self-sustaining: where there is convenience, there people will consume, thus creating public space that is elastic and transitory, and allowed to expand and contract organically. It is this elasticity of urban space in which both ojek and Gojek operate.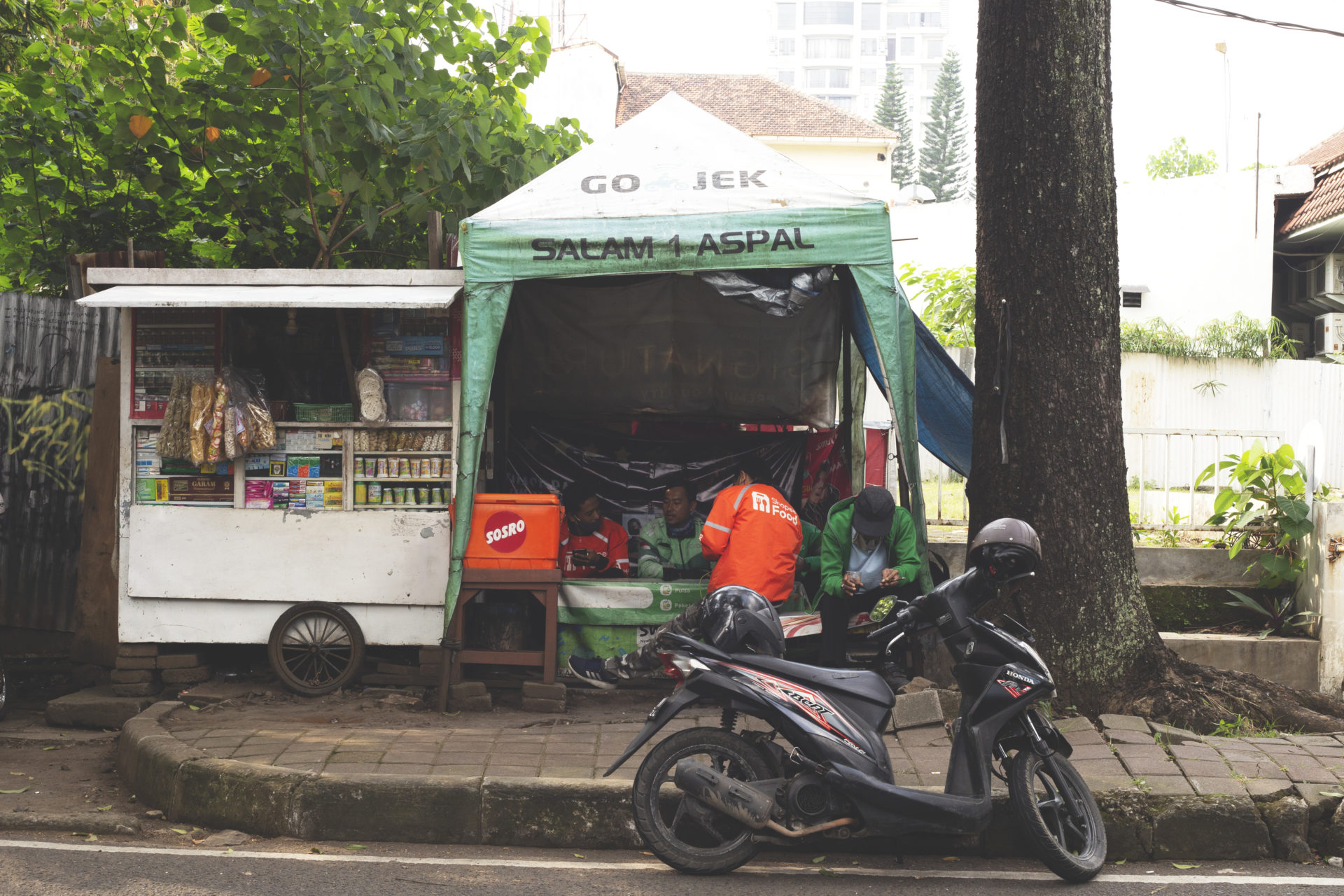 Since their inception, ojek drivers have set up transit points in strategic locations throughout the city called pangkalan (which translates as "stands"). Due to ojek's emergence from a gap in the transport market, the pangkalan are built-up around road intersections, entrances to urban villages, and terminals where traffic and demand are high. The strategic positions and permanent nature of these pangkalan have almost become 'gateways' to and out of urban areas, where they monitor who comes in and out of their particular turf. Ojek drivers standing by in these spaces have been reported to intimidate Gojek drivers for operating in their territory (colloquially known as "red zones"). In these red zones, some pangkalan display explicit signs prohibiting any Gojek presence, while some even charge drivers money to pass, further underlining the sense of animosity between the two factions.
In contrast, Gojek's algorithm operates based on the proximity of their drivers with customers, disregarding any informal urban zones. Drivers would congregate in what is referred to as basecamps which are much more mobile in nature and are usually integrated with existing public spaces such as among street food vendors, by public parks, and in dense commercial areas. Because of this quality of mobility, these basecamps are located in 'safe' areas away from 'red zones' and are heavily decorated with organisation attributes and Gojek paraphernalia as symbols of pride and identity, further contributing to the existing ojek-Gojek divide.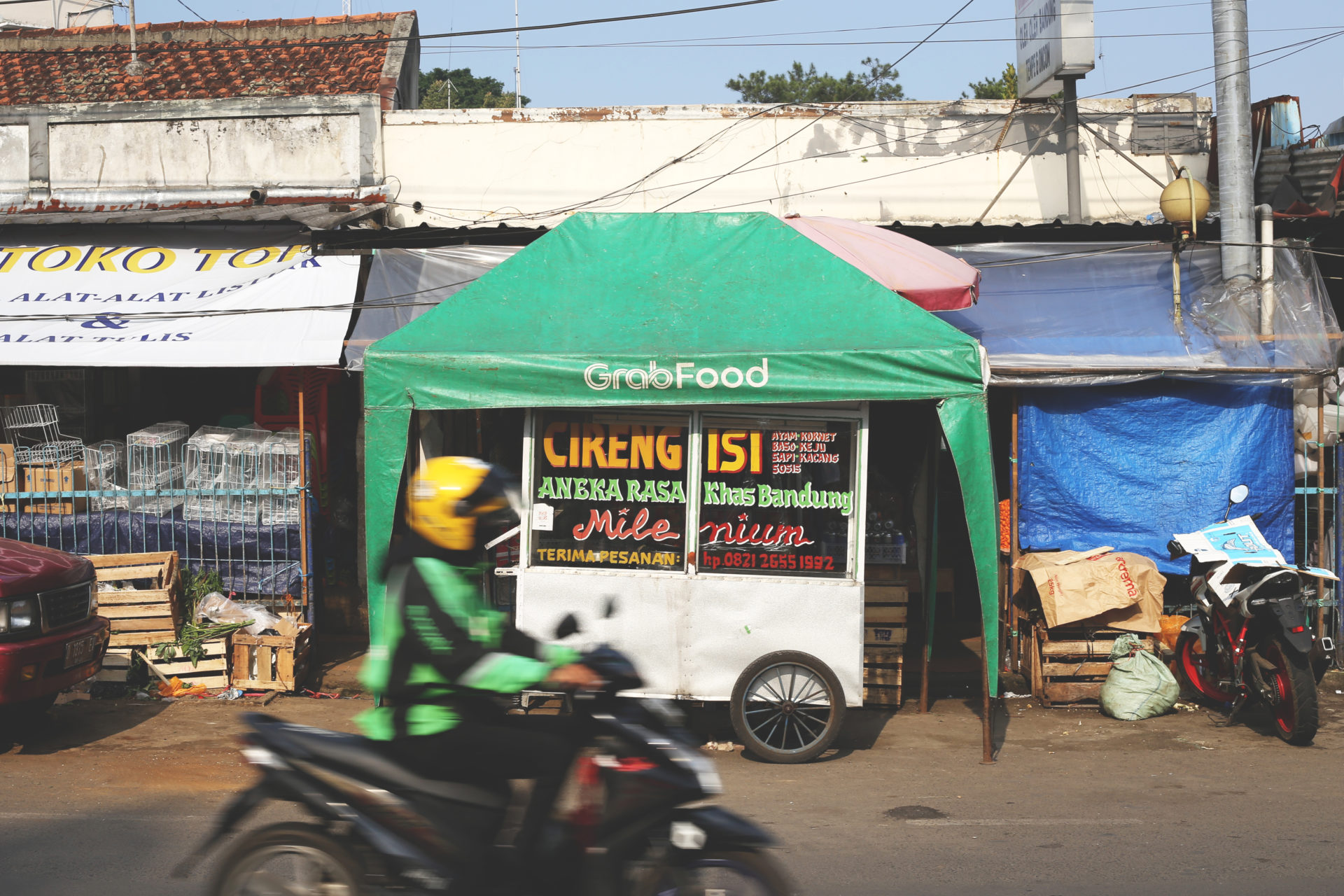 Boasting competitive prices, practical door-to-door services, and seemingly more trustworthy drivers, Gojek is particularly appealing to younger tech-savvy customers who prefer to eat out. As a result, a significant number of delivery-only food businesses using Gojek's platform have sprouted-up, owing to convenience and relatively low overhead costs this approach offers. Through platforms and extensive databases via mobile apps, many businesses no longer require strictly strategic locations to reach their target market, commercial zones are further dispersed and new markets of online customers open up. By simply registering their business to the database, physical distance is eliminated and customers are only a few taps away from their dinner.
These apps' foray into the local food industry can also be seen in official partnerships with street food vendors in the form of tents and banners, marking public spaces with swaths of green vinyl. With their relentless expansion and dominance over the market, and by extension the city, it may seem that informal actors like ojek are steadily losing the battle. Over the years, previously defiant ojek drivers end up giving in to Gojek dominance and have since joined their ranks. One pangkalan reported that only a third of their members remain. The race to the bottom is already well underway.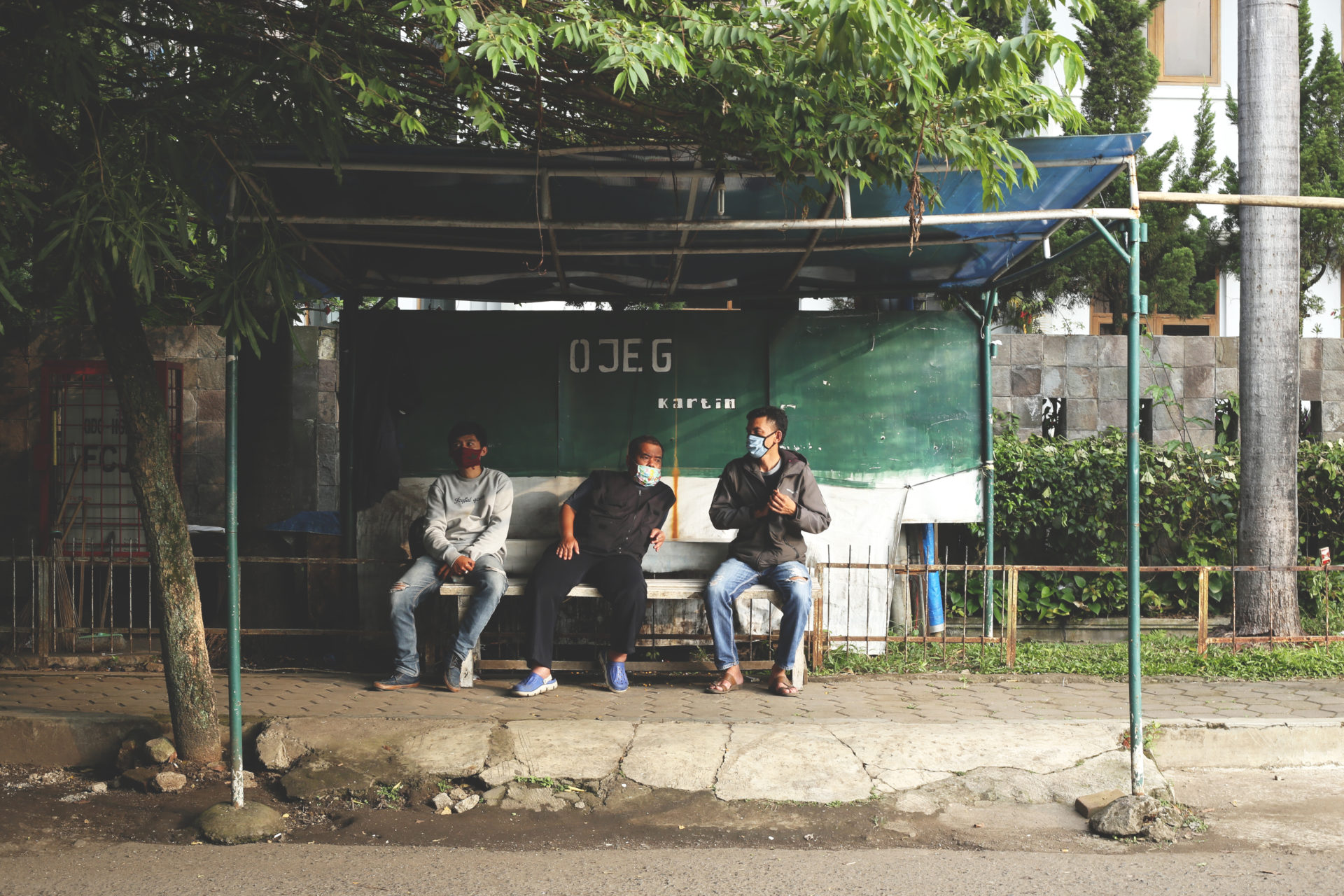 Governed as they were by the ever-shifting interaction between consumers and providers, Bandung's public spaces have always been dispersed throughout the city. But until Gojek came along, these spaces were bound together by a level of autonomous co-production on both sides of that interaction. Now, with the convenience of getting around offered by Gojek, customers can enjoy the privilege of occupying these spaces and moving in between them, without the drivers having any influence over where these places emerge. When drivers are mere carriers of customers, moving from one space to another at the whim of an impersonal algorithm, they stop being active members of the public and instead become almost invisible cogs in a machine.
This infrastructural impersonality directly contrasts with the way public spaces are set up in Indonesia, as Indonesian society still practices and values informality in all aspects of life. If Indonesian public spaces rely on the interaction between middle-class consumer and working-class service provider, the introduction of platform algorithms like Gojek by and large exacerbates existing class dynamics in the country. In a recent article for the International Journal of Urban and Regional Research, Doreen Lee has pointed out that Gojek privileges the consuming middle class and leaves behind "those whose lives and values cannot match the neoliberalised standards of urban citizenship." So the introduction of a formal structure for organising commercial exchange has already had a dramatic impact on the way citizens construct, occupy, and interact with public space. Despite platforms like Gojek having brought about massive technological leaps and increased the quality of life of many Indonesians, they have also caused new problems. From the Gojek-ojek frictions to a looming mega monopoly overtaking every aspect of daily life, Bandung's public spaces are at risk of losing the vibrant informal liveliness on which Indonesia's public sphere is founded.
Thank you to Pak Ayadi, Eko, Ruly, Yanto, Eeng, and Ridwan for their willingness to be interviewed.
Cities After Algorithms
Cities After Algorithms is a content series exploring how algorithms generate and influence the spaces we live, work and move around in. Algorithms shape the city after their own image, but it is an image they have been trained to see. The tendency to mistake collected data for reality produces a self-fulfilling prophecy by leaving little room for intervention, experimentation or otherness. The more this technological determinism rules the use and design of cities, the more the city will be organised after mechanical parameters instead of socio-political ideals. The special series Cities After Algorithms is produced in collaboration with Failed Architecture, and is supported by the Dutch Creative Industries Fund.
Hamzah Al Asadulloh
Hamzah is a spatial designer based in Bandung, Indonesia. After graduating from the Royal College of Art's Interior Design program where focused on Interior Urbanism, he has taken interest in cities and the multiplicity of ways we experience them. He co-founded the design collective dll. that explores intersections of architecture and collective opportunities. His other interests include historic preservation, public space, and media futures. From time to time he enjoys collage at Collage City. He is an avid cat lover and casual lamp fan.